Normally I wouldn't post something like this - it is way too wacky for me. But after Dad's comment on my last fashion post, I had to share this one. See, Dad, the "Princess Leia" outfits were NORMAL in comparison! This, THIS belongs in a 2001: A Space Odessey/The Princess of Mars crossover!
However, I will say... this is a very...interesting...use of a technology I AM following closely: 3D printing.
Cutting-Edge Fashion by Daniel Widrig and Iris van Herpen
London-based architect
Daniel Widrig
and Sutch fashion designer
Iris van Herpen
first collaborated at Amsterdam Fashion Week in 2010 on a collection called
Crystallization
(above) — a fashion collection of 3D-printed dresses.
Escapism
is the continuation of this collaboration and launched at Paris Fashion week earlier this year.
The goal of the Escapism collection is to take 3D printing and push the limits on the wearability of the printed pieces. It investigates the possibility of using advanced technologies and computer-aided design to create haute couture fashions made of fiber-like elements that are lightweight and flexible.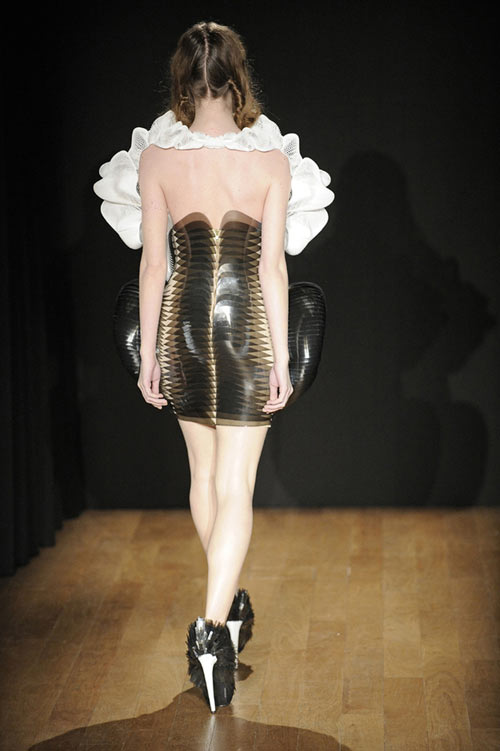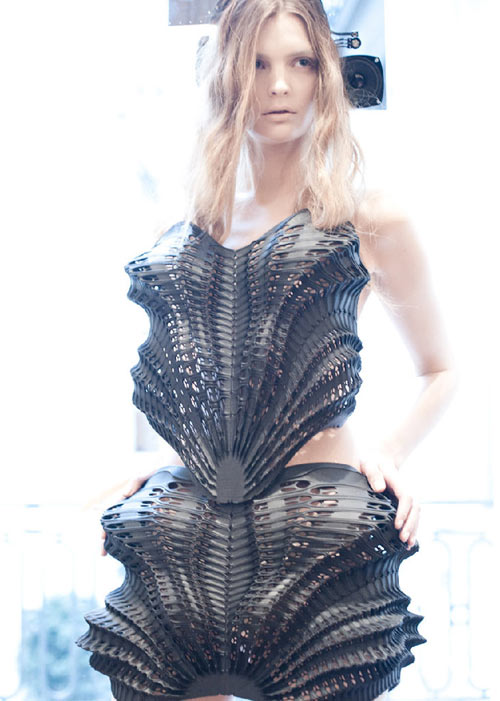 The collection was produced in collaboration with New York based label
.MGX by Materialise
via Selective Laser Sintering (SLS) in Polyamide.
---
Share This:
Twitter
|
Facebook
| Discover more great design by following Design Milk on
Twitter
and
Facebook
.
---
© 2011
Design Milk
| Posted by Jaime in
Art
,
Style & Fashion
|
Permalink
|
No comments